A Singapore-based company, Dyson manufactures household appliances such as vacuum cleaners, hair dryers, heaters, and more. Their products are known to offer great value for money and reliability. Have you made a purchase with Dyson but aren't satisfied with the product? Dyson allows its buyers to return a product and get a full refund but there is a certain deadline you must abide with. Read further for details on the Dyson Return Policy, how to fill out a product return form, and more.
Dyson Return Policy – Latest Guidelines
There can be many reasons why a customer might want to return a Dyson product, from damaged items to the product not meeting the user's expectations. It can also be the case that Dyson delivered you an incorrect product. Do you find yourself left unsatisfied with a Dyson machine? Before you fill out the return form, be sure to go through the following guidelines issued under the Dyson Return Policy.
In order to get a full refund, you must return the Dyson product within 30 days of receiving the product or the date of delivery.
If you purchased the product from a Dyson Demo Store or Dyson Service Center, you must return the product within 30 days from the date of purchase in order to score a full refund.
For wearable devices, such as Dyson's air-purifying headphones, there is a 14-day refund policy. If more than 14 days have elapsed from the day of purchase or delivery date, the customer won't be eligible for a refund.
The customer won't have to pay a shipping fee when returning a product.
Dyson outlet's refurbished machines and Final Sale items won't be eligible for a return as they are considered 'Final Sale'.
If a Dyson outlet's refurbished machine and Final Sale item arrive damaged or an incorrect product was received, you must contact Dyson Customer Service for assistance.
The above-stated products are only eligible for warranty service.
If the product is modified or decorated intentionally, affecting the resale, refurbishment, restoration, or usability of the product, the Dyson Refund Policy terms won't be applicable.
Under no condition will Dyson accept a return after the 30-day time limit has elapsed (14 days for Dyson Zone.
Note: Any intentional modifications affecting the resale of the product shall also void the product's warranty terms.
Further Guidelines For Getting A Refund On Returned Items
The return form must be filled out before shipping back a Dyson purchase.
If your product is purchased directly from Dyson and returned back to Dyson within 30 days of purchase, you will be fully refunded.
Dyson can take anywhere between 8 to 10 business days to process your refund for a returned item.
Any counterfeited products aren't accepted for return and refund from Dyson.
If you made your purchase was made from a retailer and not directly from Dyson, you must return the item to the retailer of purchase itself.
Exchanging A Dyson Machine For A Different Or Identical One
The return and exchange guidelines for Dyson's machines vary depending on the point of purchase. If you have made your purchase online from dyson.com, the item will not be exchanged unless it was found damaged upon arrival.
If the item is purchased directly from a Dyson Demo Store, you can exchange it for an identical machine (with exact same specifications). If the customer desires a different model or color of the item, a return and new purchase shall be necessary.
An exchange is not allowed on purchases of refurbished and final sale machines. If you made such a purchase and the machine arrived damaged or isn't fully functional, the same shall be covered under Dyson's warranty service.
Dyson takes care of the return shipping fee
Dyson takes care of any standard return shipping. Any other charges concerning expedited shipping shall be deducted from the amount to be refunded. Once you fill out the Return Form, you will receive a pre-paid printable label to return the item purchased.
How To Return A Dyson Product Purchased Online?
If you have made a purchase from Dyson Direct and wish to return the product, you can do so by filling out a form. Simply follow the process shown below: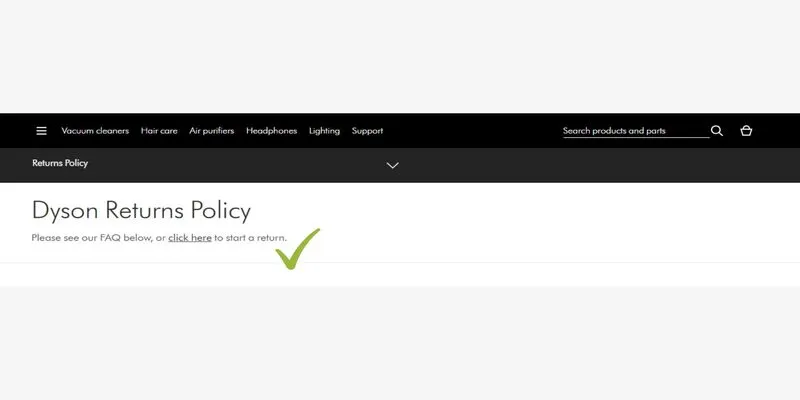 Scroll down to the 'Start a Return' section to reveal the Return Form.
Enter your Dyson Order Number.
Provide your Email ID.
Choose the return type. You will be given three options to choose from:

Dyson Technology
Dyson Part/Accessory
Both Dyson Technology & Part/Accessory

Choose if the package is sealed or opened. If your package is sealed, the chances of getting a refund from Dyson are much higher.
Enter your First Name, Last Name, and Zip Code.
Finally, choose from the following reasons for returning the product:

Arrived Damaged
Incorrect Product Received

Duplicate order – Did not order
Duplicate order – Ordered multiple by mistake
Delayed delivery
Did not meet expectations
Price
Change of heart/no longer needed
Did not order
Other

Once all the details required in the fields are filled, click on the Submit button.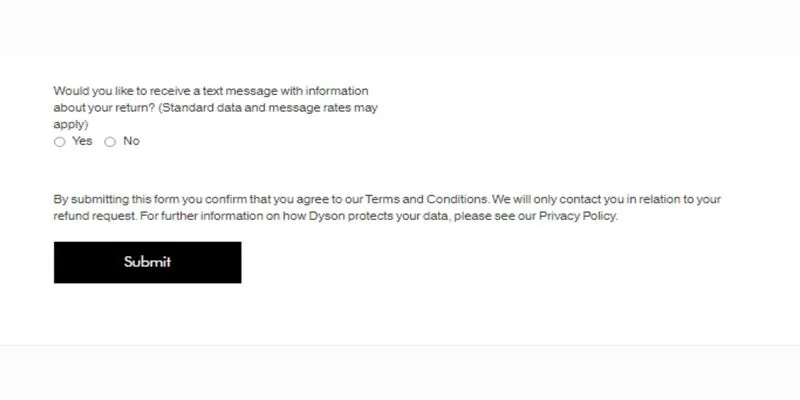 Dyson responds with return authorization information within 48 hours.
Note: Only one order can be returned when filling out a return form. If you wish to return multiple items, you will be required to fill out a separate return request.
How long does Dyson take to process a refund?
If you made your purchase from dyson.com, it can take anywhere between 7 to 10 days for the refund to be processed. Refunds for any purchases made directly from the Dyson Demo Store are made on the same day. Refunds for purchases made at the Dyson Service Center take the longest at 14 to 20 business days.
Returning An In-Store Dyson Purchase
If you haven't made your purchase online but from a Dyson store instead, you must take your machine back to the demo store. Don't forget to bring proof of purchase or purchase receipt. If you bring the receipt and the machine back to the store within 30 days of purchase, Dyson experts shall assist you with processing the return and issuance of a refund. Depending on the payment method used, it can take anywhere between 1 to 2 billing cycles before you see the refund getting credited to your bank account.